Size:
Picks are sizable. All measurements refer to the width across the knuckle at the fingertip or thumbtip.
Finger Picks:
Small size, 15mm or less.
Normal size, 16mm - 20mm. Fits most adults.
Large size, 21mm or more. For this size, substitute normal size thumb picks.
Thumb Picks:
Small size, 16mm - 20mm.
Normal size, 21mm or more. Fits most adults.
Color:
Butterfly Finger Picks are made from tarnish resistant copper in three colors--Gold, Silver, and Copper. The most popular color is gold, then silver, and then copper. Copper is slightly softer than the gold and silver colors in feel, sound, and durability.
Coating: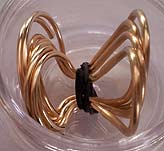 The coating option is a very strong and very expensive clear plastic put on the metal pick playing surface that produces a quieter sound. Most guitars sound great without coating, but some are so resonant you can really hear the friction noise between metal picks and wound metal strings, particularly on the low E string. If your guitar has this trouble with metal picks, you should consider purchasing at least a coated thumb pick. The image at right is a set of coated picks. You can see the coating on the pick playing surfaces (right side).
Shipping:
Most people receive their picks in the USA within five days of ordering and ten days in Canada. For international shipping outside the USA and Canada, delivery time is 2-4 weeks. For buyers located in unusual destinations delivery time is 4-6 weeks. For the Russian Federation, delivery time is 6-8 weeks. If you don't receive your picks within these time frames please let me know so I can work with the post office to make sure you receive your picks as soon as possible.
Due to import duty issues, orders will be shipped separately if purchased separately.
Picks are made and shipped every Monday, Wednesday, and Friday for orders received by those mornings.
Due to too many mail delivery problems in Italy, orders to Italy will be cancelled and refunded.
Getting Started:
If you are just getting started finger picking and aren't sure which picks to start with, buy three finger picks and a thumb pick. Most people never pick with the fourth finger. Check the Links page for more resources.
Site Information:
Terms of Use, Privacy Policy, Limitations, Shipping, Refund, Affiliate, and Contact information is listed on the About page.
Technical Problems:
This shopping cart requires your browser to have Javascript enabled. If nothing happens when you click Add To Cart, it is probably disabled. Click here to see if Javascript is enabled, and how to enable it if necessary: http://www.activatejavascript.org
Butterfly Finger Picks ® © 2012-2017. Beautiful Sound For Guitars And Other String Instruments. www.butterflyfingerpicks.com